Heat energy and water usage during the metal can making process are reduced.

In order to reduce heat energy and water usage, coating specification is changed to film specification, so that the dry oven and washing processes are curtailed.
3-piece laminated can

New Bottle Can , Mini Bottle Can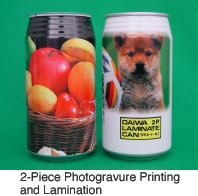 Conventionally, there are limitations in designing a printed label to be put on a metal can by a litho press or a 2-piece can decorator. Daiwa Can has successfully eliminated such limitations that are attributable to the metal surface printing, and our customers now have added flexibility to reproduce vivid photogravure images on metal cans for enhanced aesthetic appeal of their products.

Combination of two areas of Daiwa Can technology results in the distinctive advantages of the photo-gravure images on metal cans:
1.Photogravure Printing

A high speed printing line reproduces the photo-gravure images on a plastic film. It is equipped for 100% inspection of products quality in-line.

2.Film Lamination

The printed film is thermally bonded to metal surfaces at high speed.
The process is environment-friendly with the least of VOC emission and energy consumption.