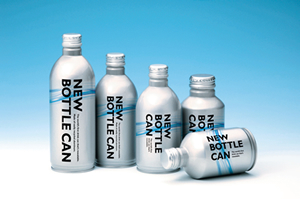 On the basis of the conventional beverage cans that have proven performance of product preservation and advantages of very versatile applications, we have successfully added new functions to satisfy consumers' needs for resealability, fashionable design, etc. that have surfaced in recent years.
The New Bottle Can, a beverage can with such added functions, is an eco-friendly package that meets the social needs for energy conservation and recycling of resources.
The New Bottle Can is a metal can of the new age. It is produced in clean environment by highly productive manufacturing system. Since its introduction to the market, it has won several awards and is supported strongly in the industry.
Further refinements of the New Bottle Can are under way continuously to satisfy changing needs of the market.

1.Lamination

Polyester series resin film is attached onto the inner and outer surfaces of aluminum sheets by the heat adhesive method.

2.Shoulder Forming

To form continuous round shoulders, our unique tools and processes result in no-wrinkle curvatures.

3.Neck and Spout Forming

To stabilize neck formation, one machine performs curling, threading, and beading.

4.Metal caps

Concavo-convex on the caps is improved, which reduces slipperiness on the fingertips when opening the cans.

17 knurls slit

By reducing the number of knurls from 23 to 17, the upper part of the metal caps have larger concavity and convexity, which reduces slipperiness on the fingertips when opening the cans, and enforces the overall grip.

34 vertical bead line cap

To further reduce slipperiness on the fingertips when opening the can, 34 bead lines for enforced grip.

5.Printing to shoulder

To fulfill varied customer needs, we have enhanced the flexibility of printing on the bottles' neck.

The New Bottle Can is an embodiment of a unique concept of can forming: a bottom end of cylindrical 2-piece can body is drawn and formed into a long and hollow neck with a spout. It is made possible by the manufacturing process that Daiwa Can has developed on the basis of its accumulated know-how and technology.