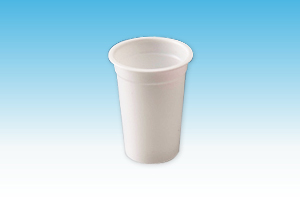 These plastic cups/containers can be made multi-layered.
Can be produced as multi-layer cups by deep-draw-vacuum-thermoforming
Small lot production; shorter lead-time needed
Produced in super-clean environment

Multi-layered sheets can be processed by this forming method; able to make multi-layered cups. Creating a barrier layer in the middle improves performance of oxygen barrier and protects contents. Choose layer materials and thickness, etc. according to the specifications best-suited to the contents.


Direct print by offset on exterior surface; can produce by small lot and shorter lead-time, compared with labelling method that is widely used for injection cups. Lower inventory risks and easier production control for customers.