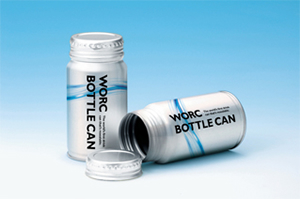 Daiwa's WORC Bottle Can has a wide spout that delivers a fresh flavor of a product efficiently. Typical applications include liquid coffee and a thick soup with whole kernels.

1.Screw threads

An extensive study was conducted related to the shapes of the screw threads, shaping tools, and thread forming methods, and resulted in development of a new can with a welded cap, one that consumers can open and close smoothly, without weakening the seal strength.

2.Opening Shape

Cross-section shape is thinner and straighter than that of conventional can ends, so that consumers can enjoy the flavor and easily drink the beverage; even chunky contents emerge smoothly.

3.Can inside

The inner coating is improved, so that the contents look brighter. The drink looks even tastier viewed in the can than in a conventional container.

4.Compatible filling lines

In order to prevent an additional burden on customers' facilities, and to enable them to use the same settings as for conventional 3-piece cans, Daiwa Can will attach the caps in our can making process before delivery.