August.7.2007


PEPSI NEX in the New Bottle Can contributed to the sales of 3 million cases (72 million units) in 2 months, a record for PEPSI

Suntory's PEPSI NEX renewed its packaging March 27, 2007; the new black can stands out and hit a record high for new PEPSI products, only 2 months after the launch.

PEPSI NEX, the zero calorie, yet satisfying beverage with crispy aftertaste, received high praise; it marked a top level market share in the zero calorie category and made a big hit. Daiwa Can is honored to see our New Bottle Can contribute to such a sought-after product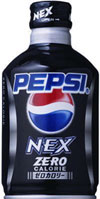 Under the circumstances of long term storage in vending machines, compared with other types of beverage containers, our New Bottle Can is advantageous in holding very well the carbonic acid content.
The best of the New Bottle Can for consumers: it keeps the spout hygienic, it is easy to carry after it is opened, and it is stable on a desktop. For the sake of business, the shoulder and the cap are also printable, so that the brand concept can be expressed in the package design to the utmost. Finally, the can is made of aluminum, and thus is light and excellent in recycling capabilities.
Through PEPSI NEX's success, our New Bottle Can has a great reputation for preservability, gas barrier property, and design ability, which all help to add value to carbonated drinks.
Various innovation technology used in the New Bottle Can realizes excellent storage and resealability. It can be used for a wide range of drinks including carbonated beverages. This innovative beverage can has been leading the new era since 2000
Suntory Limited.
http://www.suntory.com/
PEPSI NEX
http://www.pepsi.co.jp/menu.html (Japanese only)
New Bottle Can
https://www.daiwa-can.com/products/nbc.html
Daiwa Can is one of Japan's leading packaging manufacturers, with years of experience and technical expertise, supplying Japan's major beverage manufacturers with top quality containers and packaging solutions that take a creative, value-added approach in the marketplace. Daiwa Can is currently expanding its operations in the U.S. and Taiwan with the aim of becoming a global packaging enterprise.