As a manufacturing company, Daiwa positively tackles the challenge of global warming, placing priority on CO2 reduction. We regard the amount of CO2 emission as an index not only for environmental burden but also for energy and resource savings. Therefore, in addition to the efforts made at the plants and offices, our approach to CO2 reduction includes the reduction per product basis, which means reductions in every stage of product's life from the extraction of resources to the disposal or recycling of the product.

We have set specific targets of CO2 reduction not only for the total CO2 volume but also for specific consumption (e.g. CO2 emissions per ton of product). To accomplish these targets, each plant and office works to improve production efficiency as well as the efficiency of equipments, and the company takes the results into its employee evaluation system to accelerate the efforts.

Our commitment to CO2 reduction is also seen in the development of new products and technologies. The use of life cycle assessment (LCA) is regulated within the company for the developments of new products. In addition to the reduction in specific consumption, we are also promoting consequent reductions in CO2 emissions by producing lighter or thinner packaging products.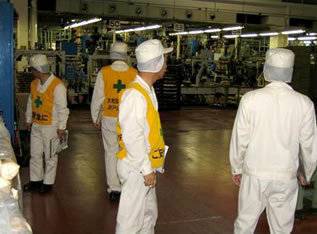 Our employees constantly check pipes and other parts of factory equipments to prevent energy loss.
Examples of Our Recent
CO2 Reduction Efforts
Lighting
Motion light sensors introduced
Lighting area reviewed
Lights down during the break
Shift to energy-saving mercury lamps
Air
Checking/repairing air leakage
Air flow meters installed
Air pressure amount reviewed
Compressor control system introduced
Air nozzles renewed
Air nozzles changed to blowers
Equipments
Inverter control adopted
No. of vacuum pumps in operation reduced
Shift to energy-saving air conditioners
Hypoid Motors introduced
Charging forklift batteries during the night
Power Supply
Shift from LPG to town gas
Shift to energy-saving boilers
Steam flow meters installed
Manpower
Information sharing via an energy-saving committee
Occasional energy-saving patrol
PR and other awareness-building activities
Thorough trash separation