June.6.2007


"Ukon no Chikara" (The Power of Turmeric) by House Foods Corporation filled in Mini Bottle Can has become a big hit since its launch in 2004.

House Foods Corporation's "Ukon no Chikara" (The Power of Turmeric) has been a strong selling product since its launch on May 17, 2004.

Each bottle of "Ukon no Chikara" contains 30 mg of curcumin, the health effective component of autumn turmeric. It has a mild taste with no bitterness of turmeric. Since the launch, this mega hit functional drink, which helps the lifestyle of busy business and socializing people, has been filled in Mini Bottle Can.

Curcumin is vulnerable to light, and so our high light barrier Mini Bottle Can was chosen in contrast to conventional glass bottles. The can is light, non-breakable, and made from 100% aluminum, and so is excellent for recycling.

The success of "Ukon no Chikara" made Mini Bottle Can the prime choice for the packaging of functional drinks in Japan. The Mini Bottle Can has been used for numerous functional drinks since.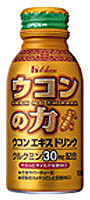 Daiwa Can is one of Japan's leading packaging manufacturers, with years of experience and technical expertise, supplying Japan's major beverage manufacturers with top quality containers and packaging solutions that take a creative, value-added approach in the marketplace. Daiwa Can is currently expanding its operations in the U.S. and Taiwan with the aim of becoming a global packaging enterprise.