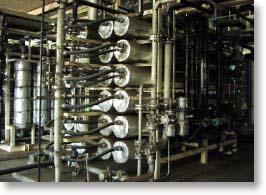 During the drawing and ironing (DI) process of can manufacturing, we use water to rinse out the lubricant. For an effective use of this rinse water as well as other wastewater, we have developed a water-reusing system applying a leading-edge technology used to produce ultrapure water. The system, which is currently in operation at our Tokyo Plant, enables the reutilization of wastewater for the DI process and realizes a considerable 70% reduction in the plant's water consumption.
The history of our wastewater management technology dates back to as early as 1973 when the Osaka Plant adopted an originally developed DI rinse-water recycling system. This system was totally innovative at the time as it released no wastewater at all, and even the eliminated waste components were solidified and reused for steel production. In fact, many people visited the plant to see the amazing scale and capability of the system.

Our reusing efforts include repeated use of protective packaging materials for the products (empty cans). Plastic pallets and chipboards are collected upon delivery of goods to customers and brought back by the same truck. The collected materials are reused after proper cleaning and quality check. Chipboards that are regarded unusable are being recycled as papermaking materials.