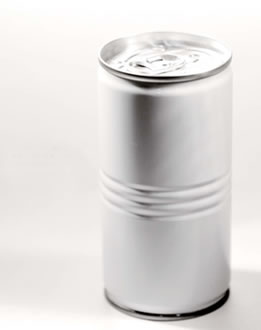 In 2009, Daiwa Can launched the innovative Eco-conscious Steel Can, which only weighs 19 kg realizing a 10% reduction in weight from the earlier products. This 3-piece can features a very thin-walled can body co-developed with a material supplier. In the production of this feathery can, the development of its processing technology was as challenging as that of the thin plate. We finally came up with the solution to give concavity and convexity on the surface to add sufficient robustness.
Another feature of the can is that its inner and outer surfaces are coated with laminated films, requiring no drying oven process during the production, and this enables us to reduce CO2 emissions by 15%. Coupled with a 3% reduction through the fewer use of steel, total of an 18% CO2 reduction is achieved.

Daiwa's New Bottle Can and its family products including Mini Bottle Can and WORK Bottle Can are designed for recycling. Unlike PET bottles, they are totally made of easily recyclable materials (aluminum only or aluminum and steel) including the cap, making it easy to recycle especially in Japan, where recycling systems are established and over 80% of metal cans are recycled.
Another distinctive eco-feature of Daiwa's New Bottle Can is that it requires no water during the manufacturing process. In conventional can manufacturing, water is used in each process of their plate making, forming, and filling. Because the New Bottle Can's inner and outer surfaces are coated with PET films, however, it requires no washing process reducing water consumption. This also means that there is no wastewater. Moreover, the PET film coating also works to eliminate the drying oven processes contributing to the reduction of CO2 emissions and energy saving.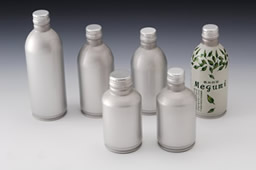 See more about the New Bottle Can