July.10.2007


Asahi Oxygen Water by Asahi Soft Drinks Co., Ltd. filled in the New Bottle Can renewed to dramatically increase its oxygen density.

Asahi Oxygen Water by Asahi Soft Drinks Co., Ltd. has renewed itself to greatly increase its oxygen density. The oxygen water has been on the market for over one year, since May 10, 2006.

In this recent renewal, Asahi Oxygen Water added 7.5 times the oxygen of normal water to the multiple-stage filtered water. This new type of health care beverage, the oxygen water that has sold extremely well since its launch, is filled in Daiwa Can's New Bottle Can.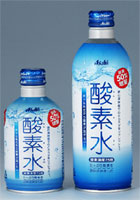 Naturally, oxygen is nearly insoluble in water. In order to maintain the oxygen amount until the use-by date (12 months from manufacture), the beverage maker carefully chose our incomparably high gas barrier property container for its product. The New Bottle Can is light, non-breakable, and all-aluminum, thus excellent, too, in recycling qualities.
Through Asahi Oxygen Water's success, the high gas barrier property and preservability of the New Bottle Can render it valued even more than ever as a container that helps spur the product value of functional beverages and carbonated drinks.
The New Bottle Can is resealable and can be used for various beverages. This groundbreaking beverage can has been leading the new era since 2000.
Asahi Soft Drink Co., Ltd. website
http://www.asahiinryo.co.jp/ (Japanese only)
New Bottle Can
https://www.daiwa-can.com/products/nbc.html
Daiwa Can is one of Japan's leading packaging manufacturers, with years of experience and technical expertise, supplying Japan's major beverage manufacturers with top quality containers and packaging solutions that take a creative, value-added approach in the marketplace. Daiwa Can is currently expanding its operations in the U.S. and Taiwan with the aim of becoming a global packaging enterprise.