January 31, 2014


Winner of Silver Award in Beverage Three-piece Category at The Cans of the year 2013

Daiwa Can participated again in this year's Cans of the Year event staged as part of the 2013 Canmaker Summit held in Edinburgh, Scotland on November 7 and 8, 2013, winning silver award in the beverage three-piece category.

<Beverage Three-piece Category: Silver Award>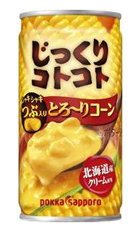 The award-winning three-piece long-neck can designed to prevent solid residue was developed to hold beverages that contain solids, such as the kernels in corn soup.
A concern with beverages that contain solid ingredients is that this material tends to remain behind in the can after drinking.
In response, Daiwa Can was able to devise an upper can body shape that made a significant improvement in this residue problem.


<<Photograph: Jikkuri Kotokoto Toroori Corn (Chunky Corn Potage) from Pokka Sapporo Food & Beverage Ltd. >>
About the Canmaker Summit
The Canmaker Summit is the world's largest can-making technology event held annually by the Sayers Publishing Group, the publisher of the international magazine titled The Canmaker . During the two-day event, the world's major can manufacturers, beverage makers, and other related businesses make presentations on such topics as the latest technology and the market trend. The "Cans of the Year," presented as part of the Summit, is one of the foremost contests for metal containers where the world's leading can manufacturers exhibit new technology and products every year.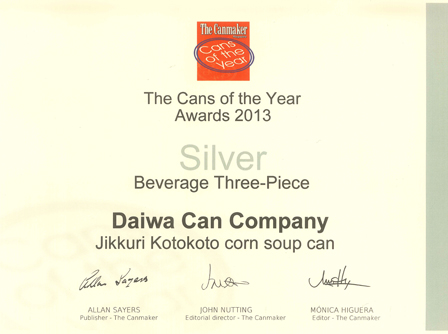 Daiwa Can has received the "Cans of the Year" awards for ten consecutive years since 2003 and its technological capability is highly valued worldwide. The company would greatly appreciate your ongoing support for its products.