December.3.2009


Daiwa Expansion Forming Can Wins Bronze Prize at Can of the Year 2009!

Daiwa Can exhibited at Can of the Year 2009 during the Canmaker Summit 2009, held October 28–29 in Dubai, UAE, and Daiwa's Expansion Forming Can won the Bronze prize in the Beverage Three-Piece category with its Starbucks Double Shot® Espresso Con Panna (140 grams) for Suntory Beverage & Food Limited.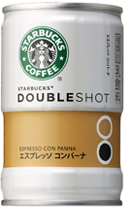 This award-winning Expansion Forming Can expands the can body to create unique concavity. The can is 80% shorter in height (compared with the regular 190-gram can), and has also an interesting band-like irregularity on the body to give a better grip when the customer grabs it: these fresh designs together succeed in achieving eye-catching excellence.
Photo: Starbucks Double Shot® Espresso Con Panna (140 grams) for Suntory Beverage & Food Limited
The Canmaker Summit is the largest can-making technology convention in the world, and is held every year by the Sayers Publishing Group, publisher of "The Canmaker." At the two-day event, major can manufacturers, beverage makers, etc., from around the world make presentations on the latest technology and market trends. Cans of the Year is a famous global contest for metal containers, and the world's leading makers exhibit their latest technology and new products.
*For more information, please see Daiwa Technology: Expansion Forming and Embossing Forming.
To relevant products
To relevant articles
December.24.2008
Daiwa Can is one of Japan's leading packaging manufacturers, with years of experience and technical expertise, supplying Japan's major beverage manufacturers with top quality containers and packaging solutions that take a creative, value-added approach in the marketplace. Daiwa Can is currently expanding its operations in the U.S. and Taiwan with the aim of becoming a global packaging enterprise.